Shopping Cart
Your Cart is Empty
Thank you for your business!
You should be receiving an order confirmation from Paypal shortly.
Exit Shopping Cart
PinellasPascoParanormal/Hostile Haunts Specialists
Haunted? Call ...727-938-1305
Welcome to the official website of The Hostile Haunts Specialists also known as PINELLAS/ PASCO /PARANORMAL. We are located in Holiday Florida but serve a large service area for Pinellas, Pasco, Hernando, and Hillsborough counties. The director has 41 years actively working in this field. We are Pasco County's paranormal specialists with 4 decades in investigating Pasco's haunted history. We know just about every haunted area in Pasco county. Call us anytime you need our help. We never charge for any of our services. You can find much information at this website regarding just about anything that you may be experiencing with a haunting, or the Florida Bigfoot.
This website has much more than is readily visible here. Hold your mouse over the word "articles" in the header and wait for the drop down menu of endless articles and information. There are also menus within the menu.
ONE OF THE OLDEST AND MOST EXPERIENCED TEAMS IN FLORIDA
Laurie Champion, the director of Pinellas/Pasco Paranormal at the age of 61 ,has been in this field for forty one years. She is one of the longest established and most experienced investigators in the state of Florida. She also investigated in New Jersey, before coming to Florida. Laurie is a Hostile haunts Specialist. She and her team have been resolving hostile hauntings for many years. She serves as an advisory to teams all over the country for hostile haunts cases. Laurie got into the field because she herself, was the victim of a hostile haunt for years as a child. She personally trains all of her staff here at PPP. She and her team have much experience with all kinds of hauntings and some crypto cases. We do not do UFO investigation. We refer all UFO type cases to MUFON. PPP is not an evidence gathering only organization. We actually specialize in helping to alleviate hostile activity in the home of our clients. We never charge a fee and are very confidential with our clients. PPP does take crypto cases for unknown animals and or entities. We have tracked the Florida Bigfoot for many years now, and learned much about this creature.
PPP is a busy team that handles about 45 cases a year. Pinellas/Pasco gets most of it's cases from word of mouth, as they are well established in the area and have an excellent track record with hostile haunt cases. We get many cases by referral from other teams, that find hostile spirits in their client's homes, or in their own homes after ghost hunting adventures that went wrong. We also take most local cases and do what we call a sitting to get evp communication with a spirit, when the people in the home want to try and find out who the ghost is, just for their peace of mind, even if the ghost is not hostile. We do however always give priority to hostile haunt cases. We give top priority to those cases where children are being targeted by a spirit. If you are local we can be there within 24 to 48 hours.
We are here to help people who are experiencing distressing activity in their homes. We try to gather information to try and solve a haunting, not just take pictures and video. We are EVP specialists, as we believe that EVP is the best form of communication we have to date. We also take cases occasionally in Hillsborough and Hernando county. We refer out of state cases to colleagues who are able to help people in other areas of the United States and the UK. We have been featured on the cover of Creative Loafing Magazine and on Channel Ten Studio Show in 2007, but we usually keep a low profile as we do not have publicity as our goal in this field. Laurie has turned down every paranormal TV show that has approached her, as she does not want to be a part of the promotion of the paranormal craze.
We will stay with most cases until they are solved or resolved, unless we are unable to help any further, then we will tell you your options from there. We can not promise to get rid of your ghost or entity but we will at least try. We have about an 88 percent success rate with resolving hauntings.We currently have a staff of 12 people and some part time additional field people. We usually never take more than four people to a case unless it is a large building or vast location. We wear normal clothing with no logos, for both the privacy of the client and so as not to announce ourselves, as the ghost police, to any spirits that may be in someone's home. We have found that this method gets us more evidence captures and makes things less dramatic for all concerned. All members of PPP have been trained by Laurie Champion and are competent and fearless investigators, that are dedicated to what they do.
We have done ongoing research in many locations for many years and have tested many of our methods successfully . We do not claim to be experts as in this field there are "NO" experts. We are not Ghost hunters, and we do not take part in any commercial endeavor that exploits the paranormal.
We do not encourage or promote ghost hunting . Please do not contact us asking for us to recommend haunted locations for ghost hunting as we do not do that and will not encourage anyone else to do it.
Anyone wanting to contact any member of this team can do so through this website email and/or contact phone. All questions should be directed to the founder/director Laurie Champion. We have had a problem with people from other paranormal teams calling our team members to try and get information about this team and our cases and or methods. Our team members do not want to be contacted, outside of this website, as they have lives and do not wish to be harassed.
The team director handles all case scheduling and case applications. The members of this team DO NOT work with anyone outside of this team. No one on this team, will give out any information on our cases, methods, of investigation or cleansing, so asking is a waste of time. We had to put up this blurb, because two people on our team were being harassed, and all of our team members and their families, have a right to privacy and not to be bothered at home with phone calls from curiosity seekers . Thanks for your co-operation ....PPP
We are not here to entertain you, we are here to provide answers, and offer real help in our service area and beyond.
We are a very busy team, that works about 45 cases in Florida almost every year and assists as a consultant for longdistance, out of state, cases with our referral teams.We always answer our calls or return messages. We answer our emails daily.
PINELLAS/PASCO/PARANORMAL HAS BEEN AROUND FOR A LONG,LONG TIME AND IS NOT AFFILIATED WITH ANY OTHER TEAM THAT MAY BE USING "ANY PART" OF OUR NAME. Everything at this site is copyright protected, including our Name, and brand, "Hostile Haunts Specialists" andPinellas Pasco Paranormal.
We are not "ghost hunters." We have been around long before the paranormal craze began, and do not participate in all the hype, and commercialism in this field. This group will work with crypto cases, hauntings, missing person's cases, spirit communication for crime information, you name it. Anything that helps people on both sides of the veil to find peace, is what we focus on. We take what we do very seriously, and our main concern is helping to bring resolution to those that are being haunted and having their lives turned upside down by it. We do not run to famous haunts to look for ghosts. We do not make promo videos starring "us" with dramatic background music, running around in infrared film, trying to emulate the para celebrities on TV. We do not solicit places to do investigations. You will "NOT" find ads for ghost hunts, ghost tours, or ghost hunting events at this website. PPP does not promote or encourage ghost hunting and/ or any commercial paranormal events.The only thing we promote is education and events geared for education in this field. We do not sell " Tshirts" or other such promotional hype.
We don't wear Tshirts with our team name because we are not ghost hunters, out to show the world what we do, and we are not a ball team. You will not find membership logos or badges here for fan base memberships to TAPS,GAC, or any other TV show affiliated group. We are not and do not want to be associated with the commercial paranormal industry and or "fanclub" community. We take real hostile haunt cases, mostly in private residences, as we are a resolution team as much as a research team. Most of our cases are referred to us by word of mouth, or other teams and organizations.
We do take cases at locations such as business buildings etc. even if they are not hostile haunts, but we do not organize ghost walks or ghost hunts so please, do not send emails asking to participate in such activities with us, as we do not organize such things for the public. We do not believe that a ghost hunt should be an avenue for entertainment or thrill seeking. To be frank we do not believe in ghost hunting at all. We feel it is not the thing to do. We are researchers and resolutionists. We have a much higher goal in mind. We believe that if you are meant to have interaction with the other world it will seek you out, not the other way around. We believe that everyone should be treated with respect, and that includes those ,who have passed and linger or visit here in spirit.
Our members come from all faiths and different cultural backgrounds. We have members who are Jewish, Catholic, Christian, Greek Orthodox, and non denominational.
****Make sure to check out the drop down menus in the header for more content.
PLEASE NOTE: We are one of the few organizations that offers a contact number. Call us anytime if you need help but be advised that if your number comes up marked "PRIVATE NUMBER" on our caller ID we do not answer our phone. This is what prank callers do and we have no time for this nonsense. If you want our help and our time then don't mark your number private and come skulking around. We do not harass anyone and unless you ask us to call you back we won't, as we are too busy to solicit anyone for anything. We have more cases than we can handle most of the time anyway. Calls marked unknown caller or private number on our caller ID will be ignored. We feel that if you feel the need to be incognito you must have a less than honest agenda. We handle all of our calls with total confidentiality.
HHS/PPP is a non-commercial team. We do not ghost hunt at famous locations and haunted venues or stalk cemeteries looking for ghosts as that is just ridiculous and disrespectful to the spirits. We have all had our paranormal experiences and are not seeking to have another one for kicks or sport. We do not organize commercial events exploiting the paranormal for money. We do not seek media attention or go to investigate historic places just for "fun" or to get in the public eye. We have no desire to be on paranormal reality shows on TV or in the eye of the media. We have a higher agenda. We are a serious resolution team dedicated to our work and research in the field and helping those with real haunt problems. We focus on haunts resolution, crypto research, and paranormal education. We have offered a lot of real information and up to date results of our research, here at this website in in the books listed below.
If you want to learn more than what is at this website, check out this book.................click below to see more.
For more information on this book, go to the "Don't Miss This!" section in the header.
Also Laurie's first book may interest you...
The book has received mostly five star reviews.
Learn more about this book and see the 5 star reviews by clicking on the above amazon link or going to the link at the top of the page in the header, titled Never Forever Dead.
IF YOU LIVE IN PINELLAS OR PASCO COUNTY PLEASE READ OUR LOST SOULS PERSONALS SECTION. WE HAVE MANY SPIRITS CRYING OUT TO BE HEARD. PERHAPS YOU MAY KNOW ONE OF THESE FOLKS. HELP US TO HELP THEM TO FIND PEACE.
If you apply to this team: Please read the above link page in the header about applying to this team before you write to us. This link is under the "Contact us" prompt in the header. Any and all application emails sent to us, asking about joining this team, will be answered. If we are not needing anyone at the time, they will be filed away and saved, for the next time we need to expand the team. We may call some who apply as well, just to learn more about them for future consideration. Thank You Laurie Champion
THERE IS A WEALTH OF INFORMATION AT THIS SITE. IF YOU WANT TO LEARN ABOUT THE PARANORMAL, READ SOME OF THIS INFORMATION, RATHER THAN JUST LOOKING AT THE PICTURES OR HOME PAGE. YOU CAN PROBABLY FIND THE ANSWER, OR SOME POSSIBLE EXPLANATIONS FOR JUST ABOUT ANY QUESTION YOU MAY HAVE, WITHIN THE PAGES OF THIS SITE. LOOK IN THE BLOGS, ARTICLES, AND INFORMATION SECTIONS. THANKS LAURIE
At the bottom of this page is a map of the most haunted areas in Pasco and Pinellas counties.
If you can't find what you are looking for check the blog, the FAQ, the articles and the drop down menus in the header. There is much more here than appears in the headers. For more blog subjects and entries click on the "older posts" prompt at the bottom on the blog pages...there you will find things like "The shadow man" and more. Also click on the "articles "section in the header for even more information on many topics.
PLEASE NOTE THAT ALL ENTRIES IN THIS SITE ARE THE PERSONAL WORK OF THE FOUNDER AND OR HER ASSOCIATES AND ARE COPYRIGHTED. PLEASE DO NOT REPRODUCE OUR WORK ELSEWHERE. IF YOU WANT TO POST AN ARTICLE OR SECTION OF INFORMATION, CONTACT ME FOR PERMISSION AND IF YOU PLAN TO CREDIT US FOR THE SOURCE, WE MAY GIVE YOU PERMISSION TO POST IT.
IT IS OUR GOAL TO CREATE THE MOST COMPREHENSIVE WEBSITE FOR INFORMATION ON HAUNTINGS ,ESPECIALLY HOSTILE HAUNTS. IF YOU HAVE A QUESTION OR SOMETHING THAT YOU WOULD LIKE TO KNOW, OR LEARN ABOUT, REGARDING THESE TOPICS, PLEASE LET US KNOW. WE WILL DO OUR BEST TO GET THAT INFORMATION UP AT THIS SITE. WE BUILT THIS SITE FOR PEOPLE WHO REALLY NEED HELP WITH THESE TYPES OF HAUNT PROBLEMS. THIS SITE IS FOR YOU, SO LET US KNOW HOW WE CAN MAKE IT BETTER.
We try to resolve the haunt cases that come to us, for both the client, and for the spirit or spirits doing the haunting. In any interactive haunting, there is usually something that started the attempt at communication on the part of the spirit. To resolve a haunting you need to find the "who," and the "why" associated with the haunting. This is the best way to resolve it.
Residual hauntings, which are not active, conscious spirits, but just the replay of past events that seem to have been somehow imprinted on the ether and keep replaying like a phonograph or a movie, can not be resolved as they have no cognizant spirit causing them.
Many residential haunts seem to be interactive, more so than residual from our personal experience.
WE MADE THE PRINT AT THIS SITE LARGE TO ACCOMMODATE THE VISUALLY IMPAIRED, NOT TO APPEAR AS IF WE ARE SHOUTING. IT IS OUR HOPE THAT EVERYONE CAN READ ALL THE INFORMATION AT THIS SITE. SINCE I MYSELF WEAR GLASSES AND I SOMETIMES FIND THE SMALL PRINT ON THE WEBSITES SO HARD TO READ, I DECIDED TO MAKE MY SITE EASY TO READ.
THINGS THAT IN SPITE OF POPULAR BELIEF DO NOT DRIVE SPIRITS AWAY:
There are many things that people believe will drive away a ghost or spirit. Most of them simply are not effective at all, when a spirit is determined to hang around. Some may annoy the spirit, some may actually make things worse for you. Below is a list of things that we have found do not work to get rid of a spirit:
1. Holy water: this has no effect on a human spirit whatsoever. It may help with demon infestations but not with the average haunting. Not every spirit is an evil spirit.
2. Burning sage. Sage only works on a chemical level to create negative ions which weaken a spirit. Sage alone, without the proper banishing prayers for an evil spirit does nothing but make the environment uncomfortable for the spirit for a few hours or so.
3. Lighting white candles. Spirits like candles and this will not do anything to drive them off.
4. Convex mirrors. Mirrors do not bother ghosts and spirits at all, in fact they use them to reflect and amplify their light which makes them more visible to be seen.
5. Garlic. Spirits are not going to be affected in any way by garlic. It can not affect them in any way folks. This is an old wives tale.
6. Having a priest bless the house, only works if the priest believes in the spirit that is haunting, and the spirit is an evil one. Human spirits that are not malevolent will not be affected at all.
7. Telling the spirit to leave. This only works for people who have the strong energy to project in order to push out the spirit. If you are afraid of the spirit, this will not work.
8. Putting olive oil crosses on the doors and windows. This will not affect the spirit, and will make a mess on your windows.
9. Pouring salt around the house/ Salt will only block a spirit's energy from moving a small object that is placed in a bowl of salt.
This is because salt is not a conductor and blocks their energy from moving through it. Salt does not stop a spirit as they can float right over it. Salt simply does not work.
Any and all of these things, may not work and may even anger the spirit as they will know you are out to get them out of your home, and may take offense. The best way to get rid of a spirit that is being a pest is to ignore the activity and starve them out. Malevolent human spirits want the fear fix they get from the living. Lonely spirits want interaction. Both of these types will eventually get frustrated, when they do not get the reaction they want and move on. Human spirits with a message or a mission will not usually give up easily, and you may have to give them the chance to communicate what it is they need to be known, in order for them to move on. To do this call an experienced paranormal resolution team, in your area." Do not attempt to record EVPS in your home, it is like inviting spirits into your home. Call a professional and let them initiate any evp communication safely." To learn how not to feed a haunting, read the article titled "How does a ghost become a demon?" on this home page.

Should you think that you may have a haunting in your home and if you are afraid, you can use this psalm and say it in each room, to try and discourage the activity, if it is an evil spirit, that has come into your home. It may help but if it doesn't call a pro to come out and help you.
Sometimes people live in a house that is haunted by a spirit that interacts with them or creates paranormal activity. This haunting is related to the home, more likely a former occupant or other person who clings to the property after death. But sometimes a spirit literally haunts certain people rather than a home or structure. It can be that the person is a sensitive to spirits and the spirit has something they want help with or the spirit and follows the person because it has some kind of agenda with that person. This is a different and more difficult spirit to shake than one that is related to a home, as this kind will go with the person wherever they live. Sometimes the spirit is a friend, relative or guide that is there for benevolent reasons but in some cases it may be a predatory, vengeful or opportunistic spirit that for some reason has attached to the person and creates problems for them. People who are ghost sensitives sometimes pick up spirit attachments, as do people with extremely high levels of emotional energy. This is a complex phenomenon and if you think you may have a spirit attachment and would like to get more information, you can contact us here at this website for consultation.
This prayer may help you, and you must say it in every room of the house.
1 He who dwells in the shelter of the Most High
will rest in the shadow of the Almighty.
2 I will say of the Lord, ?He is my refuge and my fortress,
my God, in whom I trust.?
3 Surely he will save you from the fowler's snare
and from the deadly pestilence.
4 He will cover you with his feathers,
and under his wings you will find refuge;
his faithfulness will be your shield and rampart.
5 You will not fear the terror of night,
nor the arrow that flies by day,
6 nor the pestilence that stalks in the darkness,
nor the plague that destroys at midday.
7 A thousand may fall at your side,
ten thousand at your right hand,
but it will not come near you.
8 You will only observe with your eyes
and see the punishment of the wicked.
9 If you make the Most High your dwelling?
even the Lord, who is my refuge?
10 then no harm will befall you,
no disaster will come near your tent.
11 For he will command his angels concerning you
to guard you in all your ways;
12 they will lift you up in their hands,
so that you will not strike your foot against a stone.
13 You will tread upon the lion and the cobra;
you will trample the great lion and the serpent.
14 ?Because he loves me,? says the Lord, ?I will rescue him;
I will protect him, for he acknowledges my name.
15 He will call upon me, and I will answer him;
I will be with him in trouble,
I will deliver him and honor him.
16 With long life will I satisfy him
and show him my salvation.?
HOSTILE HAUNTS SPECIALISTS Pinellas/Pasco/Paranormal Specializing in "Hostile haunts"
We do occasionally organize paranormal meetings for local groups in Florida and we do lectures and presentations for groups and centers that wish to further education in the paranormal field. If anyone wishes to have us for such an event, you can contact us here.
You can join this website simply by leaving a comment and waiting for the invitation email, that will follow. If you want to join, you simply follow the instructions in the email. Then you will get a note whenever we add some new content to the site. Please fill out your profile if you join, so other members and PPP can get to know you.
Note; Photos on this page sometimes take a little time to load so please bear with us.
Listen to EVPS on our EVP pages in the header and at local case updates.
If you think you are haunted please read the article in the drop down menu called "MISTAKES"
Those reading this who think they are haunted ,please also read the article "When should you panic?' It is in the drop down menu under the article heading in the header.
ATTENTION; SPECIAL ANNOUNCEMENTS AND LOCAL PARANORMAL NEWS
PARANORMAL TEAMS; KEEP TRACK OF THE PARANORMAL WEATHER BEFORE YOUR INVESTIGATIONS FOR BETTER RESULTS SEE THE LINK BELOW;
ANY AND ALL BIGFOOT SIGHTINGS IN PASCO, PINELLAS, HERNANDO OR HILLSBOROUGH COUNTIES CAN BE REPORTED HERE BY OUR FORMS PROCESSOR IN THE "CONTACT US" PROMPT IN THE HEADER OR BY CALLING OUR PHONE NUMBER, OR BY WRITING TO [email protected] WE WILL RESPOND TO ALL CRYPTO CASES IN THE TAMPA BAY AREA, IN ALL FOUR COUNTIES THAT WE SERVICE, WITH THE EXCEPTION OF ALIEN OR EXTRATERRESTRIAL REPORTS. WE ONLY HANDLE CRYPTO ZOOLOGICAL REPORTS ! WE DO NOT INVESTIGATE UFO SIGHTINGS AND ET RELATED PHENOMENON. FOR UFO REPORTS CALL FLORIDA MUFON.
Haunted people rather than haunted houses ...
Always remember: "The light shines even in the darkness, though the darkness comprehendith it not."
"The boundaries which divide Life from Death are at best shadowy and vague. Who shall say where the one ends, and where the other begins?" -- Edgar Allan Poe
NEED A SPEAKER ON THE PARANORMAL?
Pinellas/Pasco/Paranormal is available for lectures and demonstrations for public functions.For more info. contact us at the contact link above, in the heading, at the top of the page. You can also call us at the number listed on the home page.
Do you live in a haunted zone? The maps below show the most haunted areas in Pinellas and Pasco counties. There can be activity in other areas, but these have shown to be notorious for paranormal activity, judging from what we have seen over the past 25 years or so. The Anclote area in Holiday and the area along the Hudson, Port Richey line seem to be very active, as is Hudson by Terrace drive and Beacon Woods.and Spring Hill. Dade city is another very active city for paranormal activity.
See the areas highlighted in purple below, for Pasco county.
See the areas highlighted in purple below for Pinellas county.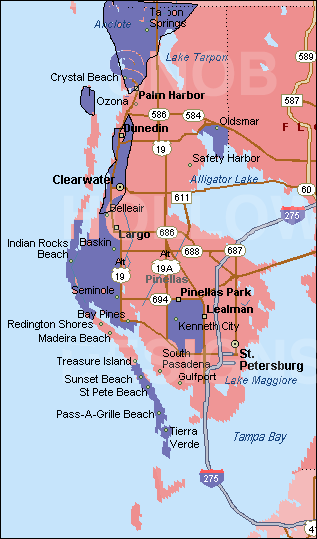 THANK YOU FOR VISITING US, COME AGAIN.

YOU CAN JOIN THIS SITE, SIMPLY BY LEAVING A COMMENT AND WAITING FOR AN EMAIL INVITE. FEEL FREE TO WRITE TO US AS WE LOVE TO HEAR FROM OUR READERS. THANKS AGAIN, LAURIE CHAMPION, HOSTILE HAUNTS SPECIALISTS DIRECTOR.

0

/